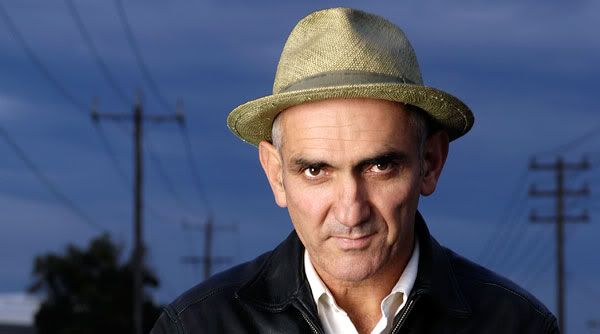 It's the late 80's or early 90's and I'm buying CD's by the truckload. (much to my wife's chagrin) I buy a lot of compilations because they go cheap, sometimes very cheap. According to record store clerks I've talked to, they just don't sell. I don't quite understand this, because they have the best songs various artists have to offer. Therefore, you can sample their musicals wares for a much cheaper price than you can by purchasing a whole album just to see what it sounds like. Compilations are like the K-Tel for the CD generation. (only these songs are collated before they're hits)
Half way through an Audio Network Cd (I'd be hard pressed to tell you the number. There were a couple of hundred of these put out. I own most of them.) I come to a song called Darllin' It Hurts by some guy named Paul Kelly. Little did I know how "Known" this unknown artist was. He fills stadiums in Australia. I've seen him perform here in L.A. at the old Largo for about 100 people. In fact, I've seen him at any number of small venues in town. Something his countrymen never get to experience. He's put out 20 albums and most of them at least contain a gem or two. A lot of them are great form start to finish. Why isn't he a superstar here as he is in his skin-cancer-ridden homeland? Well, why don't you give him a listen and decide which nation has taste and which one needs to get a fucking brain.
Dumb Things – Probably Paul's most famous song. I think he bristles sometimes having to play this and having people constantly request it. He has performed it a couple of times I've seen him. (Not like Aimee Mann with Til Tuesday material or early solo stuff) I know it's tough when audiences fixate on one or two songs in your catalogue when you're constantly producing new material, so I give him full points for being a sport.
Darlin' It Hurts – This is a fucking massive song. The guitar and organ is just mind-blowingly-good. First tune by Mr. Kelly that I had the pleasure of hearing. As stated, it was off an old Audio Network compilation Cd. Unfortunately, this one song got me curious enough to spend tons of money buying import Paul Kelly albums from Virgin Records on Sunset. The stuff is now available at much thriftier prices, you lucky, lucky people.
St Kilda to Kings Cross - A very early song of Paul's. Terrific tune.
To Her Door – Not on one of my favorite albums, but this has always be one of my favorite songs of his. A musical story of redemption.
How To Make Gravy – A brilliant song. So sad. And Paul really, really knows how to do sad. One of those great Christmas songs that make you want to slit your wrists. Thanks to Steve B. for reminding me of this and getting the whole Paul Kelly broadcast going.
From Little Things, Big Things Grow – It's kind of a folk – story song but with more tune than most of its ilk boast. Nice banjo.
Deep Water – The title song to this album. Paul is playing to a very large crowd. When I see him here, the crowds are on a first name basis.
If I Could Start Today Again – Wonderfully sad song. A story of those things you can't take back no matter what. I'm not sure about the end of this video. Would love to hear other people's thoughts. I think she's dead.
Somewhere In the City – Has a sixties feel to it. Nice guitar line to open it up.
Won't You Come Around – Nice pop song.
Sweet Guy – Just another great pop song with very nice guitar work. As stated in the Perhaps the Australians know something we don't!
Every Fucking City – A folk song with a sense of humor. Interestingly (or maybe not) enough, a friend of mine (Jan R.) was in Madrid on vacation. He came home early, and when I asked him why he said, "Every city looks the same". This maybe true. While the smaller towns and countryside still maintain some of their historic culture, every city in the world is awash with Burger Kings and Mrs. Fucking Field's Cookies. American commercialism has destroyed world culture. Congratu-fucking-lations you assholes.
Love Never Runs On Time – Nice harmonica on a nice tune.
Paul's Wiki page:
http://en.wikipedia.org/wiki/Paul_Kelly_%28musician%29
Paul Kelly's many, many albums can be purchased here far cheaper than I paid for them.
http://www.amazon.com/s/ref=nb_sb_noss?url=search-alias%3Dpopular&field-keywords=paul+kelly&x=0&y=0